My new blog, as you may already know is
smdc-translations.com
.
If you want to find the releases from this blog, go to
SMDC-Translations Old
.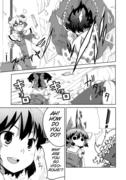 Ok, I know here may not be the best place to make this "non-age-restricted" release, but since here's the only place I have, I'll do it anyway.
Unlike the other releases so far, this is not an 18+ release. It's a compilation of four short stories having Alice Margatroid as the main character drawn by four different artists. We got some bad-ass Alice, some ponytail Alice, cry baby Alice and a wild Alice.
IMHO, these four shorties are a nice read and worth taking your time, specially if you're a Touhou fan. Or you could take a look because of the art too. Bad-ass Alice is fucking BAD-ASS!
Download:
Depositfiles