My new blog, as you may already know is
smdc-translations.com
.
If you want to find the releases from this blog, go to
SMDC-Translations Old
.
First of all, please read the first box in the right column if you still haven't done so. Thank you! Now: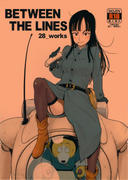 Update: For whatever reason, the file was deleted from DF and I couldn't re-upload it as it was so I had to change the file name and change the file size. You can ignore the file name and ignore the files outside the folder.
Today's release is a book that compiles 4 short stories drawn by different artists, all based on the Dragon Ball series, 3 of them featuring Mai and one featuring Chichi. IMHO, the best one is the last one, drawn by no other than
Shimimaru
(aka the one who did
Junk Land
and the main reason why I picked this book). There really aren't many fetishes involved here and I would just call this book a vanilla compilation but I'm sure most would disagree so I'll just give a brief list here. First story has some mushroom masturbation (I bet there's a name for this but I really won't bother searching for it now so deal with this self-explaining name) and a disguised rape (both directions). Second story has a disguised gangbang and prostitution. Third story is just a short interlude that has nothing sexual (it's SFW). Fourth story has some machine torture. It's a nice compilation featuring probably one of the best, yet most forgotten, female character in the DB universe. Ok, enought of the talk, downloading time!
Download:
Depositfiles
Other notes: I really don't need to write this but hey, for those of you who are here for the releases is always interesting to be informed about current project status, right? Hopefully I'll have the second volume of Josou Musuko released by this week, and together with it I'll re-release vol 1 with some modifications. Also, I hope to have another volume of Daily RO done and release by next week too. My goal is to focus and finish these two series ASAP, but that's just a goal that I'm hoping to achieve.